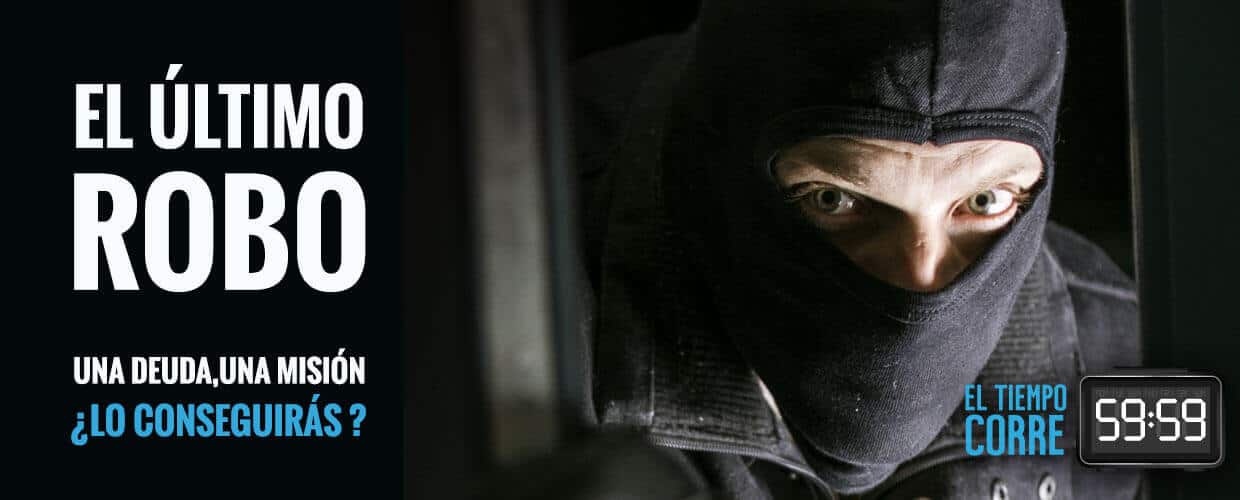 You have failed the Italian mafia boss Falcione. To pay off your debt you have to steal the sought-after jewel the "Heart of the Sea", in the possession of an important collector. Will you be able to pay off your debt on time?
Awaken all your senses, you will need them to discover the secret chamber where the loot that will save your life is located.
RECOMMENDED GAME FOR BEGINNERS OR REDUCED TEAMS
The game from 11:00 p.m. game is AVAILABLE on FRIDAYS, SATURDAYS and special days of HOLIDAYS by booking reservation by phone 675488477
Both the world of cinema and the Escape Room usually have a lot in common when themes and stories come together. treats. There are even numerous escape rooms whose inspiration has to do with some Hollywood movie.
So it is no surprise that, in the same way as when choosing which movie to watch, you also search for various Room Escape themes about Robbery in Barcelona to find the one you like the most.
And when selecting a Mafia Escape Room in Barcelona, ​​the first thing that usually attracts participants is the story that surrounds it, so in terms of genres, in the same way as in cinema, there are various themes that allow the rooms to be classified, one of them being those inspired by robbery scenes.
Currently there are various rooms where it is possible to become a thief for different reasons, and find it necessary to steal money or diamonds, etc. In general, these rooms are ideal for all types of audiences, especially for those people looking for something different from traditional Escape Rooms.
If this is your case, you will like to know that at QUESTORY we have a Robbery Escape Room in Barcelona, ​​where you will have the opportunity to become a white-collar thief who will have a great time and with his henchmen, when it comes to entering. silently in a room, in order to steal valuable objects.
Escape Room The Last Robbery
In the Escape Room The Last Robbery room that we propose to you in QUESTORY, you will have to face a situation of extreme risk, where your life will depend on you being able to achieve the mission that has been entrusted to you to settle a debt with the mafia.
In this case, the story leads you to infiltrate the house of a famous collector with the purpose of stealing the "Heart of the Sea", a very valuable jewel with which you will finally have the possibility of paying the debt you have with the drug lord. the Italian mafia.
But to achieve it and successfully carry out this latest robbery, you will have only 60 minutes to enter, solve the puzzles that will give you access to the hidden chamber where the jewel is located, and escape in time.
At QUESTORY we have made sure to create this robbery Escape Room in Barcelona, ​​with the purpose of awakening each of your senses, since in order to discover where the secret place where the loot is hidden is located, you must use all of them. them, mainly your sense of LOGIC.
Enjoy your Mafia Escape Room in Barcelona
In addition, you will have to ensure good communication with your accomplices, since teamwork will be essential to achieve a perfect robbery.
The room allows the participation of 2 to 6 players and has a medium level of difficulty, allowing even people aged 14 and older to dare to solve the puzzles, so we can say that it is an ideal challenge for beginners, and also for small groups.
In Escape Room The Last Robbery, you will have to face a really complicated mission, since the collector's security measures are among the best you could imagine.
However, a minion of your mafia creditor has provided you with an hour during which the alarm will be silenced, and will not alert the police of your presence. That will be the time you will have to enter and leave with the jewel. Will you be agile enough to do it?
This room is especially designed for those who not only enjoy solving puzzles, but are also fans of action stories, and who love to feel the adrenaline.
And knowing that time is against you and that the police can arrive at any moment will make you feel like a real thief, making one last attempt to save your life.